3

Comments
Published by GP on Friday, 18 September 2009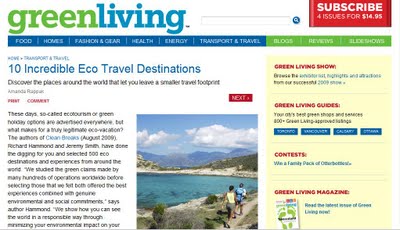 One of The Blue Yonder's Rajasthan itinerary (
explore the kingdoms of India
) has been reviewed amongst the "10 incredible eco travel destinations" by
Green Living
. The selection is a further shortlist of 500 eco destinations and experiences selected by the authors of
Clean Breaks
(August 2009), Richard Hammond and Jeremy Smith, from around the world.
"To see the true Rajasthan, the largest province in India,
The Blue Yonder
tour company facilitates a program that avoids the tourist traps and takes visitors to family-run hotels, artisan-based communities and lesser-explored regions".
The following text is from Amanda Rappak of Green Living:


"These days, so-called ecotourism or green holiday options are advertised everywhere, but what makes for a truly legitimate eco-vacation? The authors of
Clean Breaks
(August 2009), Richard Hammond and Jeremy Smith, have done the digging for you and selected 500 eco destinations and experiences from around the world. "We studied the green claims made by many hundreds of operations worldwide before selecting those that we felt both offered the best experiences combined with genuine environmental and social commitments," says author Hammond. "We show how you can see the world in a responsible way through minimizing your environmental impact on your journey and at the destination - by choosing carefully how you travel and the nature of places that you stay at. We also hope to show how you can have a positive impact in other ways - by contributing to the conservation of wildlife and local heritage and supporting local economies."
We suppressed our wanderlust to pick just 10 of their incredible sustainable vacation ideas to share with our readers. Here's a snapshot of what's awaiting you, so start packing and get out there.


Labels: Green Travel India, Jeremy Smith, Media, Rajasthan holidays, Responsible Tourism India, Responsible Travel India, Richard Hammond, Rough Guide, The Blue Yonder
0

Comments
Published by GP on Thursday, 20 August 2009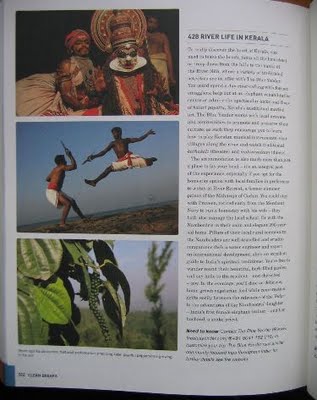 The following is text copied from page 322 Rough Guides "Clean Breaks - 500 new ways to see the world" co-authored by Richard Hammond and Jeremy Smith.

"To really discover the heart of Kerala you need to leave the beach, jump off the houseboat or troop down from the hills to the banks of the River Nila, where a variety of traditional activities are on offer with The Blue Yonder. You could spend a day river-rafting with former smugglers, help out an elephant rehabilitation centre for admire the spectacular kicks and dives of Kalari payattu, Kerala;s traditional martial art.
The Blue Yonder
works with local artisans and communities to promote and preserve their culture; as such they encourage you to earn how to play Kerala musical instruments, visit villages along the river and watch traditional Kathakali(Theater) and mohiniyattam(dance).

The accommodation is also much more than just a place to lay your head0 it's integral part of the experience, especially if you opt for the homestay option with local families in preference to a stay at River Retreat, a former summer palace of the Maharaja of Cochin. You could stay with Praveen, retired early from the Merchant Navy to run a homey stay with his wife-they both also manage the local school. Or with the Namboodiris in their calms and elegant 200-year old home.

Pillars of their local rural community, the Namboodiris are well-travelled and erudite companions(he's a water engineer and expert on international development; she's an excellent guide to India's spiritual traditions.) you're free to wander round their beautiful, herb-filled garden and say hello to the resident - and cherished -cow. In the evening, you'll dine on delicious, home-grown vegetarian food while conversation drifts easily between the relevance of the Vedas to the adventures of the Namboodiri's daughter - India's first female elephant trainer - and her husband, a snake priest. "

Labels: eco tourism india, Eco travel india, Family Holidays India, Green Travel India, Kerala holidays, Rajasthan holidays, Responsible Tourism India, Responsible Travel India