3

Comments
Published by GP on Saturday, 13 February 2010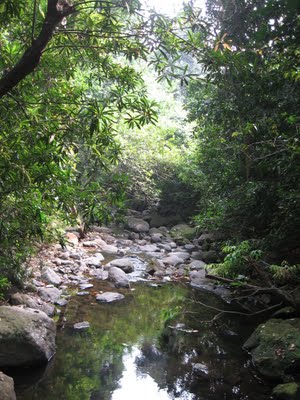 If not taken care of immediately, such newly opened destinations will turn into eco-disasters
Ill-planned, half-baked and funding dependent tourism projects can turn disastrous than achieve sustainable tourism. Yesterday afternoon our team went to scout for new tracks and ended up at the valley of
Western Ghats
in North Kerala. We entered a pristine length of the forest only to be welcomed by plastics strewn all around.
'Ever since we opened up this region for tourism, we see far too much waste that we don't know what to do. They haven't even appointed anyone on a salary to support the 'eco-tourism' initiatives. Worse, when we appointed two women to collect waste, the committee in-charge of the eco-tourism refused to pay wages to them as they thought it was waste of money!'
. One of the locals lamented.
On our way back, after a relaxing swim in the stunningly beautiful river in the rain forest, three of us started collecting plastic wastes left behind by tourists, only to realise that our guide who was walking oblivion of the waste surrounding us started picking up one after the another. We didn't train him, we didn't request him, we didn't preach nature conservation. However, on seeing us collecting the plastic waste, he also joined us.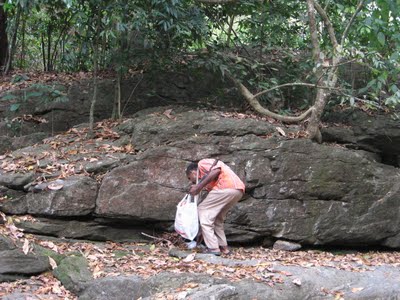 Seeing us collecting the picnic waste left behind by tourists, Matthai our guide joined us
We collected one large bag full of plastic wraps on our way back. Not knowing what to do with it, we took it along with us to the near by town and handed it over to the garbage collector the next day morning! What else do we do? What do we do with plastics? What will the garbage collector from Municipality do? They will burn it. By collecting it from forests, we can ensure that its' not eaten by animals or doesn't damage the immediate surrounding. However by not having a system of waste management, we are just doing a cosmetic cleaning, and nothing else.
Forest department in Kerala has done fantastic work in using tourism as a tool for conservation in places like Periyar, Chimmony and Chinnar regions. To develop sustainable tourism, the capacities of the local hosts including the tribes and those living on the fringes of the forests have to be developed. Thorough briefing on handling of the waste, importance of preserving forest land itself can bring about a change in tourist mind-set. The lack of infrastructure for waste management can to a large extend be minimised by proper behaviour. Quoting Mathai, our local guide,
"Well, people tend to do same things as they do back where they live, look at our cities and villages, we throw things everywhere. They continue to do the same here as well"
.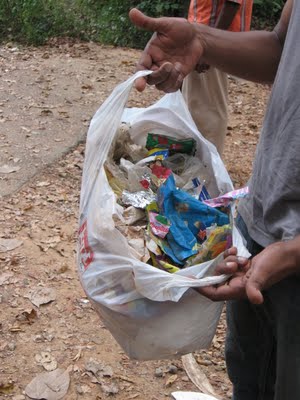 When a new tourism initiative doesn't take care of basic infrastructure and capacity building of local hosts, why launch it in the first instance. Why name it as eco-tourism and green wash? If our guide Mathai was inspired to collect waste from the tracks, we believe there will be many such Mathai's around the world. Crying about the waste-strewn surroundings doesn't help; be the change! Though engaging Government and tourism industry is important, let us not waste our time thinking they will bring the change and find solutions.
Let us show that we can make the difference, like the way Mathai did.
Labels: eco tourism india, Kerala, Responsible Tourism, waste management
0

Comments
Published by GP on Friday, 21 August 2009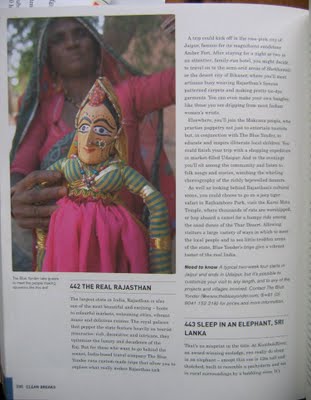 page 330 : Rough "Guide's Clean Breaks - 500 New Ways to see the world"
The largest state in India, Rajasthan is also one of the most beautiful and exciting - home to colourful markets, welcoming cities, vibrant music and delicious cuisine. The royal palaces that pepper the state feature heavily o tourist itineraries: rich, decorative and intricate, they epitomize the luxury and decadence of the Raj. but for those who want to go behind the scenes, India-based travel company The Blue Yonder runs custom-made trips that allow you to explore what really makes Rajasthan tick.
A trip could kick off in the rose-pink city of Jaipur, famous for its magnificent sandstone Amber Fort. After staying for a night or two in an attentive, family-run hotel, you might decide to travel on to the semi-arid areas of Shekhawati or the desert city of Bikaner, where you'll meet artisans busy weaving Rajasthan's famous patterned carpets and making pretty tie-dye garments. You can even make your won bangles, like those you see dripping from most Indian's writs.
Elsewhere, you'll join the Makrana people, who practice puppetry not just to entertain tourists but, in conjunction with The Blue Yonder, to educate and inspire illiterate local children. You could finish your trip with a shopping expedition in a market-filled Udaipur. And in the evenings you'll sit among the community and listen to folk songs and stories, watching the whirling choreography of the richly bejewelled dancers.
As well as looking behind Rajasthan's cultural scene, you could choose to go on a jeep tiger-siger in Rathambore Park, visit the Karni Mata Temple, where thousands of rats are worshipped, or hop aboard a camel for a bumby ride among the sand dunes of the Thar Desert. Allowing visitors a large variety of ways in which to meet the local people and to see little-trodden areas of the state, Blue Yonder's trips give a vibrant taster of the real India.
Labels: eco tourism india, Media, Rajasthan holidays, Responsible Tourism India, Responsible Travel India
0

Comments
Published by GP on Thursday, 20 August 2009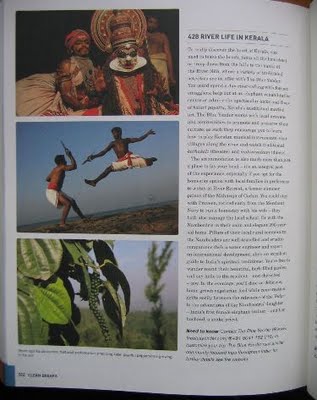 The following is text copied from page 322 Rough Guides "Clean Breaks - 500 new ways to see the world" co-authored by Richard Hammond and Jeremy Smith.

"To really discover the heart of Kerala you need to leave the beach, jump off the houseboat or troop down from the hills to the banks of the River Nila, where a variety of traditional activities are on offer with The Blue Yonder. You could spend a day river-rafting with former smugglers, help out an elephant rehabilitation centre for admire the spectacular kicks and dives of Kalari payattu, Kerala;s traditional martial art.
The Blue Yonder
works with local artisans and communities to promote and preserve their culture; as such they encourage you to earn how to play Kerala musical instruments, visit villages along the river and watch traditional Kathakali(Theater) and mohiniyattam(dance).

The accommodation is also much more than just a place to lay your head0 it's integral part of the experience, especially if you opt for the homestay option with local families in preference to a stay at River Retreat, a former summer palace of the Maharaja of Cochin. You could stay with Praveen, retired early from the Merchant Navy to run a homey stay with his wife-they both also manage the local school. Or with the Namboodiris in their calms and elegant 200-year old home.

Pillars of their local rural community, the Namboodiris are well-travelled and erudite companions(he's a water engineer and expert on international development; she's an excellent guide to India's spiritual traditions.) you're free to wander round their beautiful, herb-filled garden and say hello to the resident - and cherished -cow. In the evening, you'll dine on delicious, home-grown vegetarian food while conversation drifts easily between the relevance of the Vedas to the adventures of the Namboodiri's daughter - India's first female elephant trainer - and her husband, a snake priest. "

Labels: eco tourism india, Eco travel india, Family Holidays India, Green Travel India, Kerala holidays, Rajasthan holidays, Responsible Tourism India, Responsible Travel India