3

Comments
Published by GP on Friday, 18 September 2009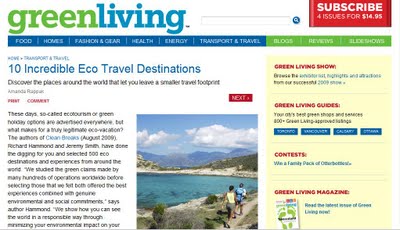 One of The Blue Yonder's Rajasthan itinerary (
explore the kingdoms of India
) has been reviewed amongst the "10 incredible eco travel destinations" by
Green Living
. The selection is a further shortlist of 500 eco destinations and experiences selected by the authors of
Clean Breaks
(August 2009), Richard Hammond and Jeremy Smith, from around the world.
"To see the true Rajasthan, the largest province in India,
The Blue Yonder
tour company facilitates a program that avoids the tourist traps and takes visitors to family-run hotels, artisan-based communities and lesser-explored regions".
The following text is from Amanda Rappak of Green Living:


"These days, so-called ecotourism or green holiday options are advertised everywhere, but what makes for a truly legitimate eco-vacation? The authors of
Clean Breaks
(August 2009), Richard Hammond and Jeremy Smith, have done the digging for you and selected 500 eco destinations and experiences from around the world. "We studied the green claims made by many hundreds of operations worldwide before selecting those that we felt both offered the best experiences combined with genuine environmental and social commitments," says author Hammond. "We show how you can see the world in a responsible way through minimizing your environmental impact on your journey and at the destination - by choosing carefully how you travel and the nature of places that you stay at. We also hope to show how you can have a positive impact in other ways - by contributing to the conservation of wildlife and local heritage and supporting local economies."
We suppressed our wanderlust to pick just 10 of their incredible sustainable vacation ideas to share with our readers. Here's a snapshot of what's awaiting you, so start packing and get out there.


Labels: Green Travel India, Jeremy Smith, Media, Rajasthan holidays, Responsible Tourism India, Responsible Travel India, Richard Hammond, Rough Guide, The Blue Yonder
0

Comments
Published by GP on Tuesday, 16 June 2009
Cover page: edited by Jeremy Smith and Richard Hammond

Discusses 500 experiences and different ways to travel. This book lets you discover various adventures from sleeping in houseboats in Kerala and witnessing the zebra migration in Botswana to taking the train-hotel from Paris to Madrid. It offers information on the best hotels, resorts, and tours run by people who are passionate about what they do.
Pic: Kerala scenes, Kathakali performance, practicsing Kalaripayattu, peppercones growing in the sun
The following excerpts are from the book
" To really discover the heart of
Kerala
, you need to leave the beach, jump off the houseboat or troop down from the hills to the banks of the
River Nila
, where a variety of traditional activities are on offer with The Blue Yonder...."
"The Blue Yonder take guest to see people who make dolls like this"
"The largest state in India, Rajasthan is also one of the most beautiful and exciting - home to colourful markets, welcoming cities, vibrant music and delicious cuisine. The royal palaces that pepper the state feature heavily on tourist itineraries, rich , decorative and intricate, they epitomize the luxury and decadenance of the Raj. But for those who want to go behind the scenes, India-based travel company
The Blue Yonder
runs custom-made trips that allow you to explore what really makes
Rajasthan
tick. "
Labels: Foot Print Guide books, Jeremy Smith, Kerala, Media, Rajasthan, Responsible Tourism, Responsible Travel, Richard Hammond, River Nila, The Blue Yonder