0

Comments
Published by GP on Tuesday, 13 October 2009

Our newsletter for Oct 2009 is now available
online.
It features a travelogue written by Zainab Kakal who visited Sunderbans immediately after Cyclone Aila that hit Eastern India on 25th May. It carries an interview with Jeremy Smith, founder of ivili.org on the potential of the website to bring together innovative solutions to sustainable development. Two other articles show case The Blue Yonder attending ITB Asia and WTM London. A short summary of latest recognitions to TBY can also be read here.
For more details, check online
here
Labels: Ivili, Media, Newsletter, Responsible Tourism India, Sunderbans, The Blue Yonder
4

Comments
Published by GP on Monday, 12 October 2009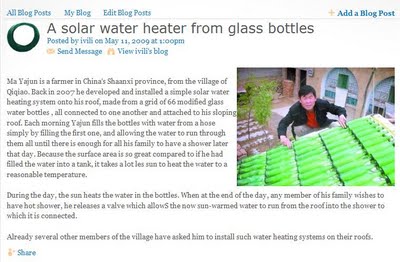 Jeremy Smith is a writer and producer specializing in environmental, travel and cultural issues. Former editor of Ecologist magazine, Jeremy recently co-authored
'Clean Breaks - 500 New Ways to See the world'
with
Richard Hammond
. His interest in sustainable development led him to set up ivili.org, an online platform to bring together solutions from practitioners from different parts of the world. Jeremy is also a winner of "exemplary journalism" for writing one of the top ten censored stories of the year, called
Re-Engineering Iraqi Agriculture
.
Jeremy in conversation with The Blue Yonder on Ivili.org
Ivili.org is a free and evergrowing library of tools, solutions and inspirations for sustainable living. Whether you are looking for advice on sustainable living, such as growing food in your garden using permaculture techniques or generating your electricity in a more ecofriendly way; or if you want ideas and inspirations for community projects that might work in your own area; or are keen to volunteer on an environmental project but don't know what's out there; or perhaps you are a funder looking to support essential work in an area you are passionate about, then Ivili is a unique place to start looking for what you need as it only focuses on bringing you sustainable solutions from all over the world.
Read the complete interview
here
Labels: Ivili, Responsible Tourism India, Sustainable Development