2

Comments
Published by GP on Tuesday, 29 September 2009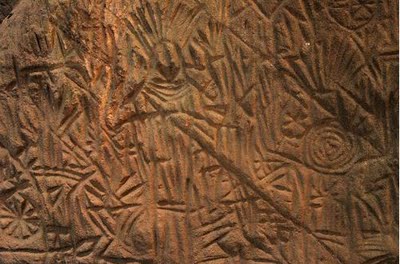 engravings at the edakkal caves

According to
The Hindu newspaper
of 26th Sept 2009,
"A rock engraving, indicating clear remnants of Harappan culture, has been found in the Edakkal caves in neighbouring Wayanad district, linking the Indus Valley civilisation with South India.

"There had been indications of remnants akin to the Indus Valley civilisation in Karnataka and Tamil Nadu, but these new findings give credence to the fact that the Harappan civilisation had its presence in the region too and could trace the history of Kerala even beyond the Iron Age," historian M R Raghava Varier said.
"

Even before the latest findings, Edakkal Caves have attracted serious travellers for its pre-historic etchings and engravings. Brought to the attention of the world by an English officer Fred-Fawcett, the site was identified to be a habitat of Neolithic people (i.e. late Stone Age, c4000BC to c1700BC).
Except for the hue and cry that we hear when similar archeological findings are publicised, there is hardly any care being taken to maintain the sanctity of the site. If not for the interest shown by passionate individuals and
responsible hoteliers
nearby, the site would have been in doll drums long time back. Wayanad Tourism Organisation and some of the well-known archeologists in Kerala has been trying since 2007 to get the attention of UNESCO to declare the area amongst the World Heritage sites.
More information on similar sites are recorded in
this website.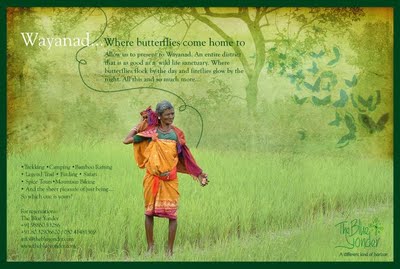 Wayanad: Where butterflies come home to. First advertisement on Wayanad from TBY
Rich in wildlife, Wayanad's mountainous terrain houses the best in wildlife and spreads the aroma of all possible spices found in Kerala. Situated in the southern region of the Deccan plateau bordering
Karnataka
state, this district is untouched by rail or air traffic and is approachable only by road.
The Blue Yonder organises responsible holidays in Wayanad which includes heritage and legend trails, rain forest trekking, bamboo rafting, spice tours, wildlife safari and walking tours. More information on our Malabar holidays can be
found here
.
Labels: Archeology, Edakkal Caves, Kerala, Neolithic sites, Responsible Tourism India, Wayanad
0

Comments
Published by GP on Monday, 22 June 2009
A finding of historical importance left

un

-cared

Anakkara

along River

Nila

is becoming a site of great importance because of many recent findings. So this morning we decided to go and find more details that that is available online. Idea was to meet the local

Panchayat

president, meet the owner of the place ( the land belongs to a private school that is constructing massive buildings in the vicinity). With such an important finding, we were expecting proper protection for the area, ensuring that no further damage is done to the location. Instead all we could see was a thin coir rope tied around a radius of about 5 metres.

That's

it! The following pictures were taken today and the text in quote is from two articles that came out in
The Hindu 10 / June / 2009
and
21 / May / 2008


"The archaeological excavation at

Anakkara

in the district gave evidences of first excavated Iron Age habitation-cum-burial site in

Kerala

. Carbon dating of charcoal fragments and physical anthropological studies of bones would give more information on the chronology and life pattern of people lived in this area."

"Archaeologists have discovered a

pre

-historic necropolis (cemetery) with megalithic cairn circles dating back 2,500 years, many

post holes

that probably point to the ancient practice of

excarnation

, a 'wood-henge'-like ritual monument and a site of primitive astronomical intelligence at

Anakkara

, near

Kuttippuram

in

Malappuram

district."

River

Nila

flows in the background of the

escavated

site.
"Excavations at the site, a
laterite
plateau atop one of several primary hills overlooking the
Ponnani
river at
Valayangad
in
Anakkara
grama
panchayat
, have revealed three chamber tombs containing burnished black and red ware, black bowls and some iron objects commonly seen among megalithic grave goods. Archaic features of the burial type and the conspicuous absence of non-local
artefacts
among the interred objects suggest that the find is around 2,500 years old.
Valayangad
literally means the burial place with cairn (stone) circles, derived from the ancient necropolis of cairns. "
The three burial rooms

refered

in the press reports
"Interior of the stone circle is divided into three chambers using granite boulders. In this, two chambers were excavated and in each chamber large burial urns with burial goods like iron implements, bone and pots were noticed. Special features of the burials are the occurrence of a hanging lamp and the burial goods were found kept in the river sand at the bottom of the urn, possibly indicating some sort of rituals associated with riverbanks."
In less than 100 metres away from the '
escavated
burial ground,
laterite
stone cutting is going on
un
-disturbed. It was in a
similar
site that workers came across "caves" and gets reported to the
Archaeological
Survey of India. If this finding was in some other countries, I can't imagine this happening. Reckless Government, reckless people?
Labels: Anakkara, Archeology, History, Kerala, River Nila, The Blue Yonder