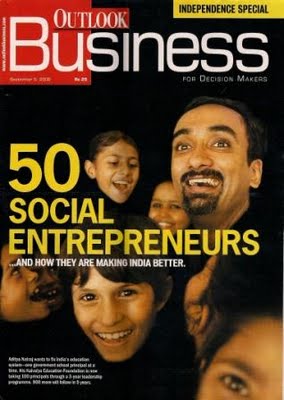 Outlook Business
(5 Sept 2009) has come out with an independence special edition on '50 Social entrepreneurs ' and 'how they are making India better'. The Blue Yonder is humbled to be amongst the 50 new wealth creators. Quoting Outlook Business, "Social entrepreneurs: The new wealth creators:They put society above self. They use entrepreneurial means to drive social change. These 50 entrepreneurs are enriching the nation. They're in different fields, doing different things. But each of these entrepreneurs has made a huge social impact with his or her enterprise"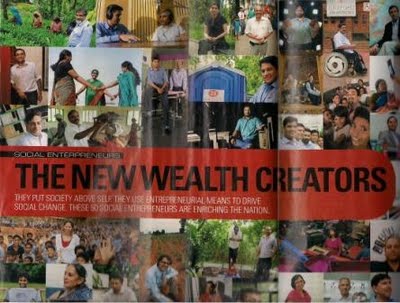 What is even more exciting for us is to know that some of our friends and partners with whom, we have worked and interacted personally in the last few years in Community development, Disaster Management and Responsible Tourism are also among the 50 social entrepreneurs! They are Prema Gopalan -Sakhi/SSP, Ishita Khanna from Muse / Ecosphere, Vijay Aditya - Ekgaon, Ashok Khosla - Development Alternatives, Ela Bhatt - Sewa, Bunker Roy - Barefoot College, Gijs Spoor - Zameen Organic and Anshu Gupta - Goonj. To read fellow entrepreneurs check this
link on Outlook Business
. To read about the entry on The Blue Yonder follow
this link.
To follow some other recognitions and awards we have won in the last 4 years, please
check this link
.
Labels: Awards, Media, Responsible Tourism India, Sustainable Development